TOSOWOONG Pure Snail Mask Pack 10pcs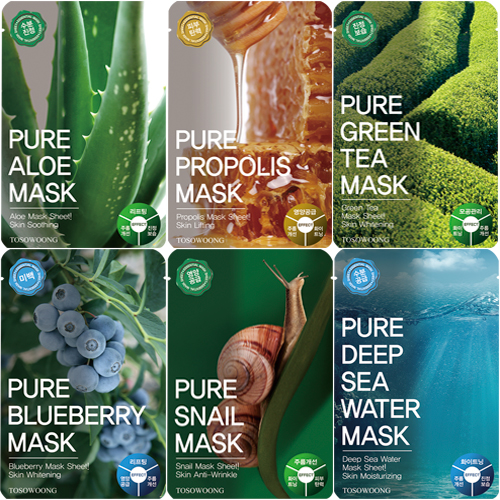 Features
It is a dual functional product for whitening and anti-wrinkle which is made with ingredients from Niacinamide, Adenosine, etc.
it weighs 23g that contains a full bottle of high enriched essence.
It moisturize and soften skin.
#Propolis - It improves skin elasticity.
#Snail - It provides nourishing and soothing effect Cleaning pores.
#Green Tea - It protects skin from external harmful factors and provides soothing effect.
#Blueberry - It boosts skin radiance.
#Aloe - Hydration and Elasticity.
#Deep Ocean Water - Deep sea water mask sheet.
Detail

How to use
Clean up your skin with skin toner after washing off.
Apply mask sheet to your skin and leave it for around 15 minutes.
After removing mask sheet, tap to absorb the remaining essence to your skin.
Product info.
Brand : TOSOWOONG
All Skin Type
Volume : 10sheets
Made in Korea
Ingredients
none